Back to news
Interview with Chantal Goffoz Thieblin, angel investor and Chrissy Durcak, Founder and CEO of Dispatch Coffee
Women Who Dare
As part of its new Women Who Dare initiative, whose goal is to increase male-female diversity within its membership, Anges Québec is unveiling a series of interviews with inspiring female entrepreneurs and angel investors who have made their mark in a male-dominated field.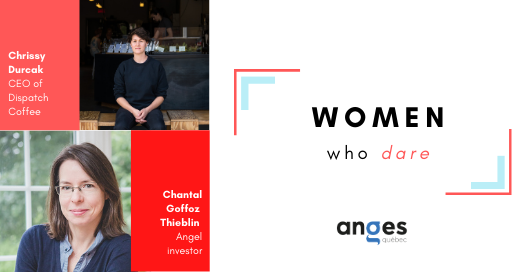 Discover our first two sources of inspiration, Chantal Thiéblin Goffoz, angel investor member of Anges Québec and Chrissy Durcak, Founder and CEO of Dispatch Coffee. 
Staying true to your values
Hello ladies. Thank you for accepting our invitation!  Can you tell us a bit about your professional backgrounds?
Chrissy :  I was born and raised in Montreal and initially started out a career in social documentary filmmaking. I had always been passionate about social justice issues and sustainability. Also, all the while since the age of 15, I had been working as a barista, when something clicked. I realized coffee had these fantastic stories to tell about supply chains, the producer families that grow most of our world's coffee and all of these invisible narratives that weren't making their way to the end consumer.  That is what propelled me to start my own brand : the passion for connecting consumers with the people, places and impacts of this beverage they drink every morning.
I founded Dispatch Coffee, a quality and sustainability-focused coffee brand, in 2012 as a cold brew bike-delivery service. At the beginning, the business was a Facebook page from which I would collect orders, then cold-brew coffee, put it in a mason jar and deliver it to people's doorstep.  The company was founded on this simple, convenient high-quality experience service and the desire to deliver a retail experience that was personalized and delightful for my customers.
Our model evolved over the years and we are now vertically integrated.  We import, roast and retail our own coffee; therefore we are direct-to-consumer. Our focus today is building a very large home-coffee brand, and the primary product today is a customizable monthly subscription service for our coffee beans.  40% customers of our customers are in Québec and 60% outside.  I am also happy to say that we are a women-led company.
Chantal :  I am from Reunion Island, Indian Ocean. I have worked in Europe (Spain, France) as well as in North America (US and Canada).  I am very passionate about impact investment, sustainability strategies and how we can change the world either as an entrepreneur or an investor.
In 2016, I  cofounded Divergent Capital, an impact investment firm.  Shortly after, in 2018, I joined Anges Québec as an angel investor.
Recently, I became Managing Partner at Credo Impact, a Montreal-based impact consulting firm, where I oversee the development of the corporate sustainability branch and impact strategy. It is very exciting and fulfilling, since all my work is about how to build bridges between corporate, either startups or large companies, and the society or the environment.
Chantal, was your experience in launching your own investment firm beneficial when you became an angel investor?
Interestingly, this experience should have reassured me on my ability to be an angel investor, but I must admit I was not that confident at first.  When I first joined Anges Québec, I still had this idea that I had to have expert-level knowledge of finance.  When I realized that my level of knowledge in finance was more than good enough, I started to feel more confident.
When you were growing up Chrissy, did you ever think of becoming an entrepreneur?
Chrissy :  No, definitely not. No one came to my elementary school and said that it was a potential career opportunity! (Laughs). 
My father was very entrepreneurial, so it was definitely something I grew up with as a model.  I think business at that time was an outlet for creativity and also working towards the goal of being my own employer. I also wanted to do something every day that might make the world better in a tangible way: in this case, making people's days happier by serving them good-quality coffee with kind and transparent service, and on the other side of our operations, work to lift communities of farmers out of poverty through better trade practices and collaboration. Today, I still think about Dispatch as a very big ambitious and exciting project.
When you first entered the venture capital ecosystem, did you feel that being a woman played any kind of role and if so, how did it affect your experience?
Chantal :  Cofounding Divergent Capital was my first step into the venture capital industry, where I was the only female partner.  It taught me that having a diversified set of skills at the decision table, complemented by having different points of views, was key to making successful investments.
Therefore, I do think that diversity is important and that the old boys club should not exist anymore.  That being said, it is important to maintain a balance because it makes us stronger and smarter investors.
Chrissy : Firstly, I want to share a little disclaimer.  I subscribe to the idea that gender is a spectrum and I never make generalizations that people with the same body parts embody the same characteristics, worldviews or behaviours. 
That being said, I identify as a woman and It's not concrete what role gender played in my personal experience with raising funds.  Before approaching investors, I did a lot of research about the venture capital ecosystem and discovered some alarming facts (for example that a very small percentage of VC funding went to woman-led businesses), so I knew that statistically the odds were against me to close an investment.
Through my research, I realized the venture capital industry seemed to define success in a very specific way, though not necessarily gender based, but one could argue that if the leaders in the Venture ecosystem is lacking in diversity of gender and identities, which it is today, the "rules" and status quo of this ecosystem will not necessarily reflect those of a wider pool of identities. All this to say, I worked on studying the patterns of what I've seen work in pitching models, characteristics to embody and put forward and ultimately worked to fit into this  mold.  For my personal feminist perspective, it is perhaps not how I would like to have gone about it, but it has ended up being a successful pathway for me to raise funds.
What kind of model did you feel you had to embody?
Chrissy :  My true nature is to be a bit more humble about my accomplishments and expertise, which was not a recipe for success as an entrepreneur.
I realized that pitching great metrics was not as effective as selling a vision, a story and to overflow with confidence. I learned that by watching men pitch and mimicking them, as well as getting coaching and mentorship from both successful men and women entrepreneurs. I can't say if that humility is an inherited-gender thing, but there is definitely something there, and many little girls are socialized at a young age to mind their manners and speak softly, versus the classic "boys will be boys", which I believe influences our confidence levels and assertiveness as women.
Chantal, what is the essential characteristic you look for in an entrepreneur?
Chantal :  I only invest in impact companies, therefore the first thing I look for is a business venture that generates social or environmental benefits.  
As for the entrepreneur, I look for someone who will be open to discussion and to sharing ideas.  Confidence is important, but to me it is more about being able to build a great working relationship with the entrepreneur.
Chrissy, what is the essential characteristic you look for in an investor?
Chrissy :  Open-mindedness is important, but I would say that value-alignment is the most important for me.  Dispatch is a very value-aligned company, our goal is not just growth at all costs, therefore it is important to welcome investors who are on board with our vision.
If there were more female investors in the Canadian venture capital industry, do you think it would change anything and if so, what would it change?
Chrissy :  I think it would lead to a more diverse economy and business ecosystem. We would see more women-led businesses and more Fortune 500 companies led by women and also more people of color in positions of power.
There is substantial evidence that correlates gender-diverse investors and boards with better business results, therefore we would probably see higher performing companies.    Hopefully we would see a fairer world, because 50% of the world is women and they need to be represented and taken into account in decisions and policies that concern them.
Chantal : I agree with Chrissy, I think having more women in leadership positions would diversify the projects that are supported.
As an angel investor, I have also noticed that women tend to take into account a more long-term vision when considering an investment, as opposed to men who tend to think more short-term.
I think having more female investors would mean having more investors who are there for the long run, determined and resilient.
In your opinion, what are some solutions to increase the number of female entrepreneurs and investors?
Chantal :  I think women are reassured when they enter new territory together, therefore a bring-a-friend initiative would help increase the number of female angel investors at Anges Québec, for example.
Secondly, I think presenting diverse role models is a great way to encourage women to enter the venture capital industry.  By diverse role models I mean women who would be considered as "underdogs", not just women who have an immaculate track record and for whom becoming an investor is the obvious next step.  I think "perfect" role models are really impressive but a bit unreachable for most of us.  I would like to see more female role models who have had great success but also some failures, so other women would relate to them better.
Chrissy : Firstly, I would say that having, as an organization, a diversity mandate is one way to achieve greater diversity. I know it is a sticky topic because it can be taken as reverse discrimination, therefore some organizations are hesitant to take that step.
As for Dispatch Coffee, we have an internal mandate that says if we have two candidates on the table with equal capabilities, we will choose the woman. We also do that when we buy coffee, we want to increase the % of coffees we buy from women producers, in 2020, that number was 41% of all our coffees.
Secondly, to touch on Chantal's answer, I think organic or informal mentorship and having more role models is just fantastic. We are a culture that mimics and learns from others. I have straight up asked women in the past that I admire if they would be my mentor, or let them know they are a mentor without clearly defining what that means. Sometimes it just means having an open door to call or e-mail about anything.  I do believe that the progress we have made is thanks to a few women at a time who were courageous enough to live their values and invited other people to do the same.
Finally, I think everyone should go through gender bias and racial bias training, because we all have unconscious biases that we need to confront and get rid of.
Do you feel that the social pressure that is put on women to have a family is a reason that there are fewer female entrepreneurs and investors?
Chrissy : It is a fact that women do more unpaid care work in communities and families across the globe, which is a systemic problem since it prevents women from finding the time to work 24-7 on a business venture, therefore they have less opportunities to build businesses.
From my point of view, it is very important that we acknowledge that reality and that we give more to women, in order for them to have equal time and opportunity as their male counterparts, who traditionally do less care work, whether it be through government programs, subsidies, etc.
I also think businesses and private sector have a critical role to play in ensuring more flexible parental policies in their workplace. 
Chantal :  I would love to share an anecdote which touches on Chrissy's answer. At the beginning of the pandemic, my husband and I were at home with our 3 kids.  I tried to put my kids on a strict activity schedule, to keep them busy, but also because I was working like crazy and needed time alone to be productive.
One day I had a meeting with VCs from all over the world to discuss an international project.  I locked myself in a room and forbade my children to enter, because I wanted to show that I had my life under control. (Laughs)
I join the meeting and immediately I see several CEOs, men or women, with kids running around and sometimes yelling in the background. I especially remember a Japanese chairman of an important company, being in a tiny apartment, living the same family issues.  I immediately felt the pressure drop.
I was so adamant about keeping my kids out of the room because I felt that women are often judged more harshly if they let their family life impede on their professional life, as opposed to men, who are often hailed as heroes when they take time off to take care of their family.
Hopefully, this pandemic will have helped diminish parenting double-standards.
Time for some my quick fire Oprah type questions.
A woman you admire, famous or not?
Chrissy :  it is funny you say Oprah because that is exactly who I had in mind! (Laughs).  I love how earnest she has been about all the obstacles that she has overcome and how successful she has become by being her authentic self. She embodies all the characteristics that I aspire to (grit, compassion, integrity) and I love what she does to empower other women.
Chantal :  Louise Arbour, who falls into the category of "unachievable" role models in my point of view.  She has received at least 40 honorary doctorates and many international prizes.  She is a Canadian attorney and judge who served as the chief prosecutor of war crimes before the International Criminal Tribunals for Rwanda and for the former Yugoslavia.  She is a go-getter when it comes to Human Rights defense or Inclusion. She challenged authority. She voices what she thinks.
An interesting read on the topic of female leadership?
Chantal :  I recently read a publication about the circular economy from the Ellen MacArthur Foundation.  It talked about how there are a lot more women launching impact businesses then tech businesses, for which they advanced the explanation that women feel more at ease making work their highest priority if it is to do good and help others.
Chrissy :  I'm really into audio books, podcasts and I follow some female entrepreneurs that inspire me, such as : Emily Weiss of Glossier, Jen Hyman of Rent the Runway and finally Jennifer Brandel who created this movement called Zebras Unite to provide an alternate definition of success within the venture ecosystem. She calls "zebras" (in contrast to unicorns) companies with models which are a bit more relatable, for entrepreneurs who are not only looking for turbo-charged growth at all costs but that look to build something of meaning and positive impact in society.
What is your personal motto?
Chantal :  I love the metaphor about having to fill a jar with one or two big rocks, pebbles and sand.  The big rocks symbolizes the most important projects in your life, being at work or at home, the pebbles the projects of medium importance and the sand the projects of little importance.  The lesson?  f you don't put the big rocks in the jar first, they won't fit in later.  It's useful to me when I feel overworked and exhausted and I need to remind myself to prioritize.
Chrissy :    Mine is not that inspirational but here it is : your best is good enough.  A lot of my female entrepreneur friends that are starting to have families carry a lot of guilt, because they feel they cannot ever be enough for any of the roles they have to play. As I grow and my responsibilities become more expansive, I am starting to feel that same guilt.  I try to tell myself that there is no one else in the world that can do what I do better for this company.
And my second favorite : haters are gonna hate!