Back to news
Managing a virtual team : The 3 golden rules of François Ravenelle, CEO of Inversago Pharma
François Ravenelle, CEO and Founder of Inversago Pharma, a Montreal biotech firm that is tackling the treatment of Prader-Willi syndrome (PWS), has just closed a $7M Series A round of financing. With the company's strong growth, François Ravenelle now manages a team of more than ten independent collaborators based in the four corners of North America. Profile of a modern-day entrepreneur.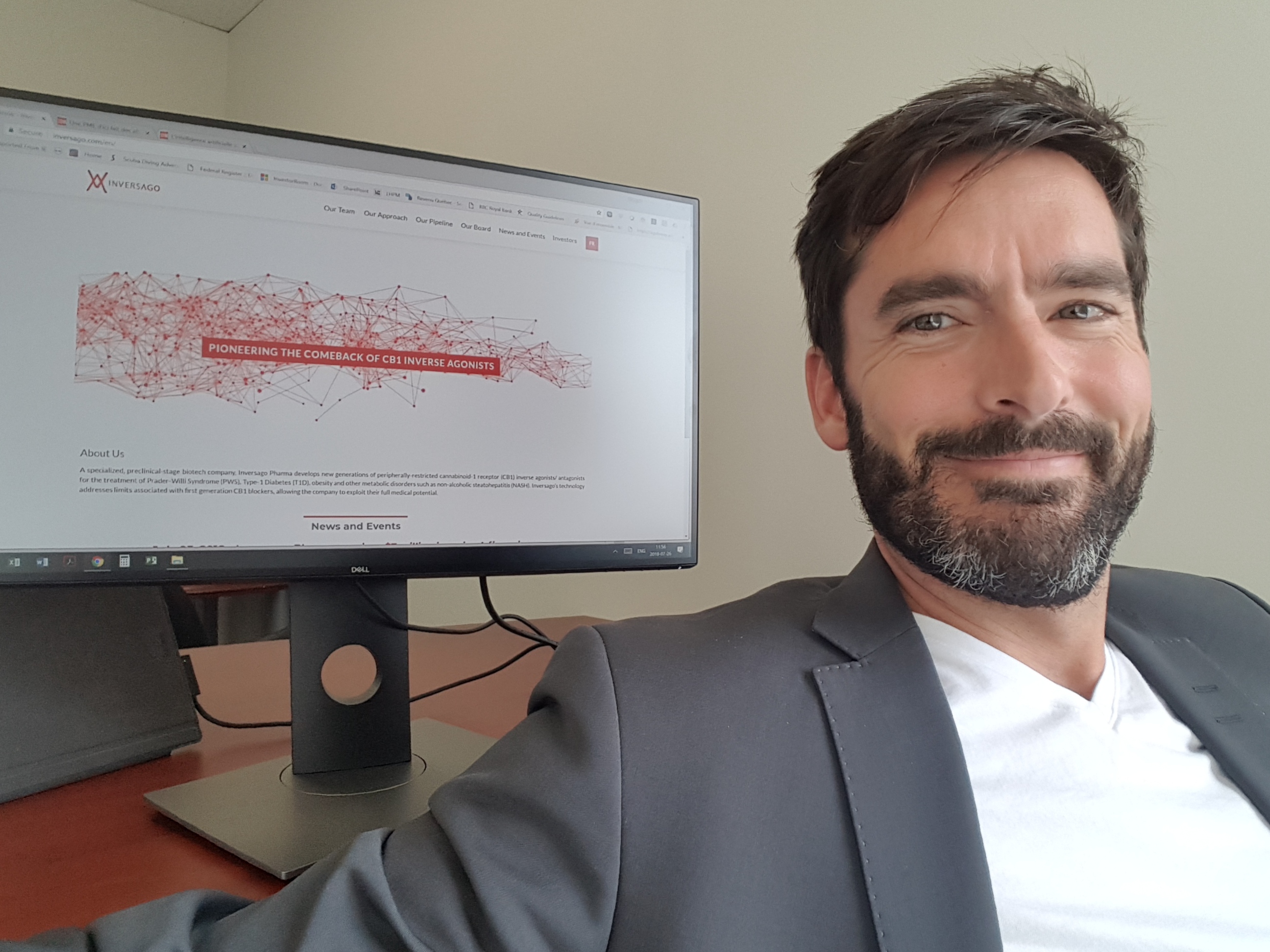 A PARADIGM SHIFT
Whereas the big pharmaceutical companies used to conduct most of their R&D operations in-house, the business model for small biotechs was already based on outsourcing their R&D, since these firms do not have the necessary resources in-house. For various reasons – the primary one remaining market competitiveness, the big pharmaceuticals have slowly adopted a similar model, which has led to an explosion in the demand for independent collaborators and CROs, an acronym for Contract Research Organizations.
THE CHALLENGE OF MANAGING A VIRTUAL TEAM
These CROs and independent collaborators are the cornerstone of the team managed by François Ravenelle.  "We can really go far by investing $1 in subcontracting R&D activities. Doing business with industrial business partners is the dominant new model, because this model opens the doors to innovation and allows the smaller players to compete with the industry leaders," he explains.
Made up of approximately ten independent collaborators based in Québec, the United States and even Europe, Inversago's business model involves virtual management of a team, which comes with its share of challenges for a CEO.  François Ravenelle shares his 3 golden rules for brilliantly meeting this challenge.
Clearly communicate his needs
"I went through an experience where, at my expense, hyper motivated consultants did more than what I asked. You tell me that that is not negative, but it is less funny when you get the bill," François Ravenelle humorously recounts. Although he realizes that these consultants meant no harm, this episode quickly taught the CEO of Inversago to clearly communicate his needs, and limits, right from the start.
"When you're a startup, each dollar counts. Contactors are not always aware of our reality. It is the CEO's duty to keep control over the operations and to formally communicate the instructions to follow," François adds.
The value of meeting people in person
"I speak to my team several times a week. That said, the telephone does not always replace the effectiveness of an in-person meeting. It all depends where my employees are. I try to meet with them once or twice a month," he says.
Based on the 18th floor of a building in Montreal, François is geographically close to a few of his collaborators. He considers it important to meet them on a regular basis, particularly to maintain a level of motivation and engagement.
"Yes, they are contract workers who are used to working remotely, but we are all humans. Building a human rapport is important, because I believe it has a positive impact on the employee's productivity and commitment to the company's mission," he states.
Developing a sense of belonging
"The virtual model has a positive impact all around, except for efficient communications and the feeling of being part of a team focusing on the same mission" he tells us.
In reality, it takes a CEO who is passionate about his product and his role as leader to succeed in spreading this feeling of belonging among his employees. "If the CEO's motivation is not reflected in his work and in his way of communicating, why would a contract worker want to believe in the company's mission," he emphasizes.
In the end, the common denominator that appears to sum up the 3 golden rules above is the importance of communication: it must be clear, relevant and carry an inspirational message in the eyes of employees.
WHAT'S NEXT FOR INVERSAGO
"Inversago is still a relatively young company, but I am proud of the immense progress that we have made so far," adds François. The upcoming year will be focused on developing their star product in order to start clinical tests as soon as possible.
To close our discussion, I asked him a question that seemed to surprise him: "François, how do you stay motivated when you are not physically surrounded by your team?"  I hear a reflective pause at the other end of the line. "Of course, I would prefer to be physically surrounded by my team. That said, the local community of PDG startups is close-knit and I can draw inspiration from them when I need it. I also benefit greatly from the contribution of strategic investors who are just a phone call away. I have a really great team, even though it isn't here physically," he closed.
About Inversago Pharma
A specialized, preclinical-stage biotech company, Inversago Pharma develops a novel generation of peripherally-restricted cannabinoid-1 receptor (CB1) inverse agonists/ antagonists for the treatment of Prader-Willi Syndrome (PWS), Type-1 Diabetes (T1D), obesity and other metabolic disorders such as non-alcoholic steatohepatitis (NASH). Inversago holds worldwide exclusive rights to a technology addressing limits associated to first generation CB1 blockers and exploit their full medical potential. For more information, visit inversago.com.
About Anges Québec
Founded in 2008, Anges Québec is a network of more than 200 angel investors whose mission is to allow its members to make profitable investments. In that time, the members of the Anges Québec network have invested more than $75M in the Quebec economy, totalling more than 177 investments in over 100 innovative companies. The Anges Québec professional development centre supports its members in the constant acquisition of new investment-related knowledge and skills.
- 30 -
Information and interviews
Stéphanie Schwanen, Director of Communications and Community | Anges Québec
Tel.: (514) 895-7622 |   stephanie.schwanen@angesquebec.com