Back to news
Academic achievement through autonomy development thanks to Studyo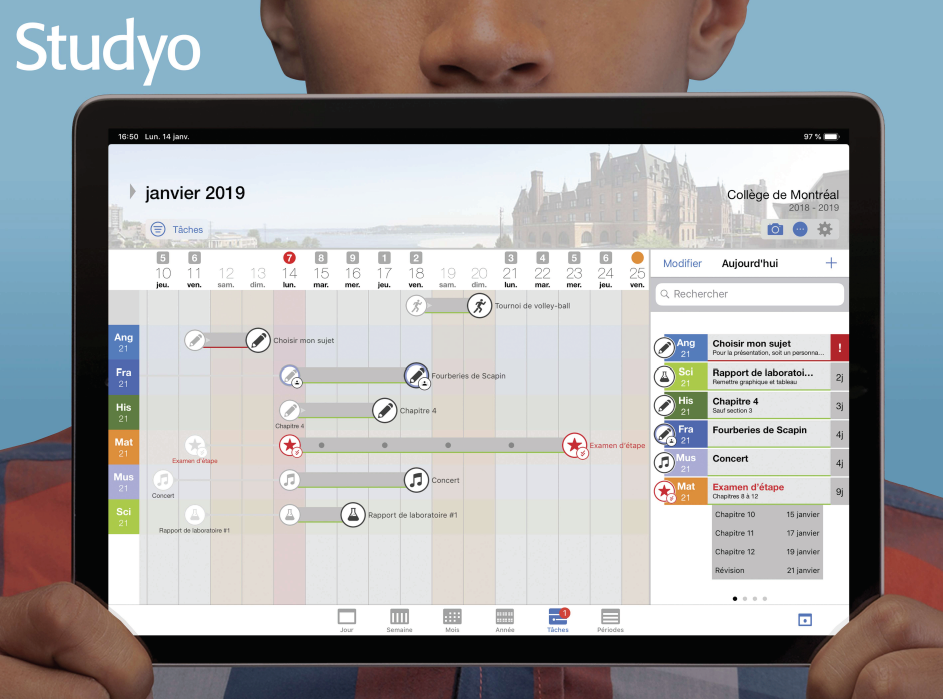 MONTREAL, FEBRUARY 22, 2019 – Montreal firm Studyo, that provides a digital app for tasks management in school environment, is set to push its American expansion one step further since it has closed a successful financing round of $ 936 000 in which Filaction, Fonds Innovexport, Anges Québec Capital and members of Anges Québec contributed. Studyo gathers 40 000 users in about 50 educational institutions, mostly in Québec.
"We are proud to help students in high school to develop their autonomy and to give them better tools when they reach college and university levels. We already collaborate with about ten establishments in the United States, including the most important private catholic school. With the new funds, we will gain a bigger foothold in this market that offers a tremendous potential since our product is unique and competitive. We commend our investors for their trust and we are hopeful to obtain new positive impact soon," says Renaud Boisjoly, CEO of Studyo.
Studyo is an engaging tool that facilitates tasks and school projects management. It fosters autonomy and self-empowerment by letting students, amongst others, enter their own tasks and subdivide their work. Parents can also follow their child performance with weekly reports. The platform centralizes all necessary information and communications as much as for the benefits of the student, the parent, the teacher and the school.
A proven application
"We have been more than pleased by the high satisfaction rate of users. All first clients during the initial year are still collaborating with Studyo and the renewal rate reaches 95%. An honourable assessment!" explains Charles Assaf, angel investor at Anges Québec.
"We are committed to the development of Studyo, a promising tool for students, which facilitates their academic path while promoting communication between students, school and parents," says Christophe Roubinet, Investment Director at Filaction.
The new investment will also allow Studyo to refine its application related to competencies analysis with students. Studyo is available on iOS and Android environments as well as on the web.
About Studyo
Founded in 2014, Studyo is an engaging tool for students and teachers that facilitate tasks and school projects management. It promotes autonomy and responsibility for students besides saving time for teachers. https://studyo.co/
About Anges Québec
Founded in 2008, the mission of Anges Québec is to help its network of over 230 angel investors obtain profitable returns on their investments. Anges Québec members have already invested no less than $80 million in the Québec economy through over 210 investments in more than 115 groundbreaking companies. Thanks to its professional development centre, Anges Québec enables its members to continually upgrade their investment knowledge and skills.
For more information :
Yentl Béliard-Joseph
514 667-0196 # 429
514 946-2572
Chu Anh Pham
514 667-0196 # 414
514 213-6136