Portfolio
---
---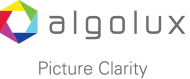 Algolux
Electronic Products
http://algolux.com/
Algolux specializes in computational imaging, the intersection of photography, image processing, computer vision and graphics.
Tomorrow's cameras, driven by novel sensors & complex imaging algorithms, will have increasingly varied configurations. This will make it difficult for hardware-based ISP designs (highly optimized for power, speed and cost) to keep up with the pace of innovation.
Our state-of-the-art framework bridges the conventional camera ecosystem with the emerging world of computational cameras.